Working with focus leads to better results. We all know how bad it feels like to waste time and be unproductive. We are encouraging you to put in a little more effort, right here, right now. Make a few intentional efforts. Commit to working smarter.
Here are some quick, easy efforts you can make right now that will set you up for success when quoting, connecting with your customers, and selling policies.
Review all of your Carrier Notes
Carrier Notes are little "cheat sheets" to explain what each carrier endorsement, credit and option is. You can refer to these notes when considering what coverages are best for the risk you are quoting.  These notes were created/written in partnership with each carrier to be sure they are extra clear.  Just click on the small orange bubble next to the carrier option/endorsement on the SinglePoint Options tab.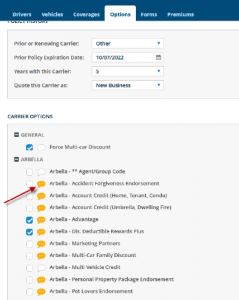 Explore all the recorded webinars on our Training page in our Resource Center.
We have hosted many, many live webinars over the years.  We also recorded them.  And now if you visit this Webinar Archive in our online Resource Center, you can scroll through and watch any one that tickles your fancy.  This really is a great way to learn the ins and outs of the SinglePoint workflow and carrier-specific rates.
The Webinar Archive can be found here:  https://bostonsoftware.com/resource-center/webinars/
Build more efficiencies into your SinglePoint workflow
There are so many features, shortcuts, and default settings in SinglePoint to optimize your quoting workflow…too many to mention.  But here are our favorites:
Quick Coverage Level Defaults for Auto Rating:  This nifty feature lets you set up three different default levels for Coverage parts 1-12 instead of only one. You can quickly change all coverage limits for a vehicle(s) by selecting among the three defaults with just one click.  Click here for a detailed explanation with setup instructions.
Deleting old quotes and old CSRs…de-cluttering always helps:  We highly recommend deleting saved quotes that are many many years old.  They clutter up your database and searches take longer.  This will help your SinglePoint run faster too.  Just go into your saved quote database from the SinglePoint dashboard and select the quotes you wish to delete.

 

We also suggest you delete producers or CSRs that no longer use SinglePoint or have left your agency.  These user profiles clutter your SinglePoint too.  Go to "SinglePoint Settings" and then "Manage Employees" to remove no-longer active users.

Integrate your Agency Management System with SinglePoint: This is one of the best ways to save time and keystrokes.  Take the information you already entered in your Agency Management System and bridge it over to SinglePoint Auto or HO quote…viola, you don't have to re-type it. Click here more information.

 

Connect your Auto and Home quotes in SinglePoint.  Speaking of integrating and eliminating re-keying of data, did you know you can share the common data between quotes? Let's say you are rating an Auto policy in SinglePoint and want to quote homeowners too for the same prospect, you can "connect" them. With the Auto quote open, just go to the "NEW" menu at the top and select another LOB.

 

The following message will appear – "Would you like to use data from this quote to populate the new quote? Select "Yes" and your data from one quote will prefill into your new quote.

All the common data such as Name, street address, etc, will bridge over to the Home quote!  These quotes will appear under one client in your database.